Jan observes
Jan blogs
Jan wanders through Delft and works out his observations in a blog. He often uses a technique he likes to call 'catching phrases': overhearing passers-by he notes down his catches to preserve them for posterity.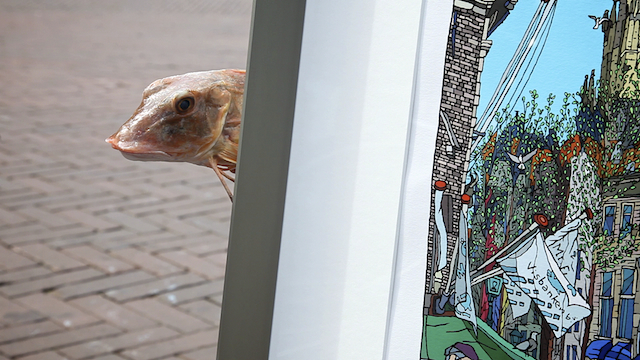 JUST 10.000 BRICKS MORE TO GO, from Jan's blog, Tuesday, 8 Februari, 2011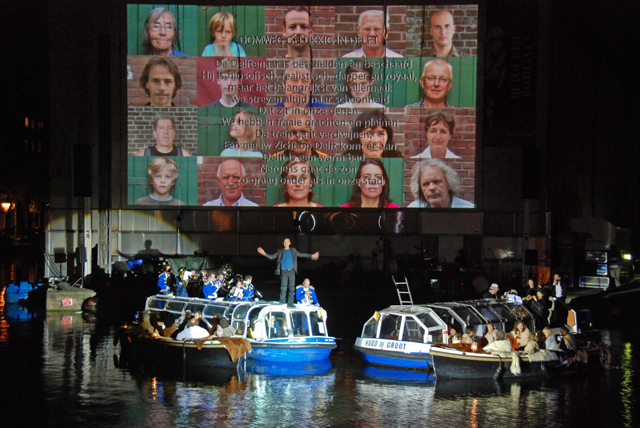 From Jan's blog, Friday 18 September, 2009
BAD DRESS REHEARSAL
Last Sunday saw the performance of 'Retourtje Delft' (return ticket to Delft) by Wilma Keizer and yours truly, a complicated project with hardly any opportunity for rehearsals. At the dress-rehearsal, everything went wrong that could possibly go wrong, and then some: one of the skippers ran off home in a tizz, to be replace by skipper Ali who didn't understand Wilma's instructions; skipper Renske dropped her mobile phone overboard; there was still too much daylight left to see the projections, so the percussionists couldn't play (so we had to skip scene 3); on of the boats with a band on board appeared in scene 1 – 3 scenes too early – and couldn't be stopped; a bag containing the 10 best fur coats got lost; and the 200 Chinese lanterns, lit by children, kept being blown out by the wind. Meanwhile I lay doubled up between a pair of ancient cannon, ready to give the frogman his cue. I was wearing a headset, so I could hear Wilma's despair, but my words of encouragement never reached her, because the headset was broken. Wilma later confessed that it was at that point that she almost abandoned the project. Even so, by half past eight over 400 people had lined up along the quayside, and Wilma gave the start sign. Jan Droog hit the drums, and the two electric boats appeared from under the bridge to float into the pool. The chorus sang 'Haban alla vogale' and it really sounded great across the water. The rest of the performance went without a hitch. A lot of work had gone into just one evening. Off to bed, exhausted.